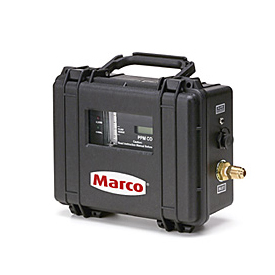 Ensuring the quality of air supplying your respirator is made simple with the Barricade Carbon Monoxide (CO) Monitor.
The Barricade will detect Carbon Monoxide levels less than 1 part per million (PPM) and alerts you with a 105-decibel audible alarm and visual indicator when it exceeds the allowable level. The Barricade is equipped with an easy-view LCD screen that displays the amount of CO present in the air. The unit can be powered with 12 Volt DC or 120 Volt AC. If you are working far from the unit, up to 250 feet, utilize the optional remote Strobe and Alarm.
The unique Alarm Silencer allows for temporary quieting of the audible alarm for up to 4 minutes. This gives you time to investigate the source of the CO but never disconnects power to the instrument.
Features:
Alarm Silencer allows you to quiet the instrument while troubleshooting
Multiple power sources: 12 Volt DC and 120 Volt AC
Heavy-duty air inlet fitting
Remote strobe and alarm available
Easy to calibrate
Water and corrosive resistant case
Visible LCD display
Audio and visual alarm
| | |
| --- | --- |
| Part Number | Description |
| 002641BM | Barricade CO Monitor |
| 002641DC-CORD | Barricade CO Monitor with 12 Volt DC Cord |
| 002641BM-CORD | Barricade CO Monitor with 120 Volt AC Cord |