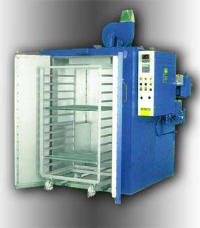 Industrial process ovens for baking, drying, preheating, annealing or any other heat processing of large or numerous parts at temperatures to 500 degrees f. Oven size conveniently accommodates materials handling equipment. Choice of either combination or full horizontal air flow in either rear or top mounted heat chamber configurations. Designed and constructed for long, hard, continuous use.
Two Air Flow Patterns Available:
Combination airflow for random shapes and sizes or for large bulky objects where heated air can move upward, around and through the load. Horizontal air flow for application where heated air must move sideways to pass through a load such as trays or flat sheets.
Two Oven Configurations Available:
Rear heat chamber for easy handling, low profile equipment. Top mounted heat chamber to minimize factory floor space occupied or to allow installation of doors at each end. Doors on front and rear allow for pass through operation or for loading from both ends.