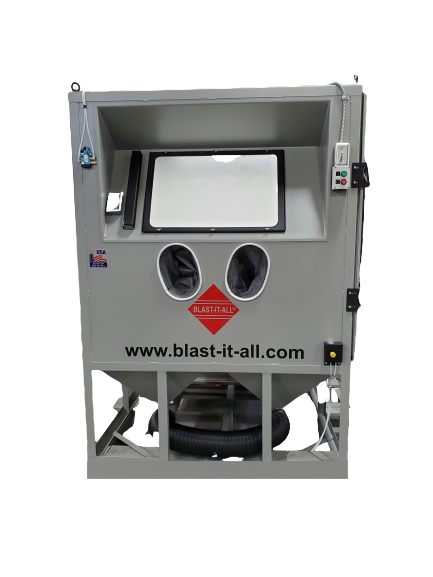 Standard Cube Blast Cabinet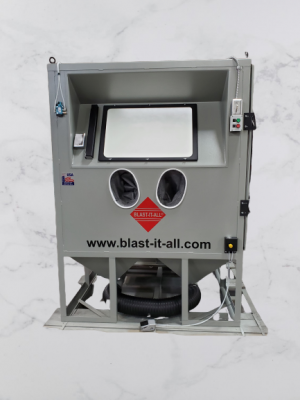 General Information
Suction Cabinets
BIA60V 60" WIDE X 60" DEEP X 53" HIGH +/‐
BIA60V‐2  900 RECLAIM AND D20 Dust Collector
BIA60V‐M4  900 RECLAIM AND M4 Dust Collector
BIA60V‐3  900 RECLAIM AND RPJH2 Dust Drawer
BIA60V‐4  900 RECLAIM AND RPJH2 Dust Hopper
BIA60V‐M6  1200 RECLAIM AND M6 Dust Collector
BIA60V‐5‐1  1200 RECLAIM AND RPJH3 Dust Hopper
BIA60V‐6  1800 RECLAIM AND RPJH4 Dust Hopper
Pressure Cabinets
BIA60P 60" WIDE X 60" DEEP X 53" HIGH +/‐
BIA60P‐2  900 RECLAIM AND D20 Dust Collector
BIA60P‐M4 900 RECLAIM AND M4 Dust Collector
BIA60P‐3 900 RECLAIM AND RPJH2 Dust Drawer
BIA60P‐4 900 RECLAIM AND RPJH2 Dust Hopper
BIA60P‐M6 1200 RECLAIM AND M6 Dust Collector
BIA60P‐5‐1  1200 RECLAIM AND RPJH3 Dust Hopper
BIA60P‐6  1800 RECLAIM AND RPJH4 Dust Hopper
VENTURI SYSTEM:
A lightweight, aluminum, pistol grip design, suction feed, gun is supplied. A No. 5 air orifice & No. 5 ceramic nozzle are installed as standard, other orifice & nozzle sizes are available depending upon compressed air supply. Carbide nozzles are also available. Media/Air blast ratio is obtained by a fixed media feed valve.
(M2 Dust Collector Shown)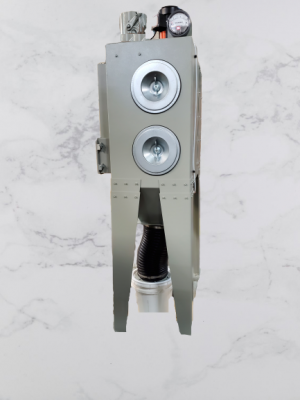 RECLAIM SYSTEM:
High efficiency centrifugal, cyclone type, Adjustable air wash and trash screen to trap large debris. A high performance blower is used to convey media and blasting by-products to the reclaim for separation.
(700 CFM Reclaimer Shown)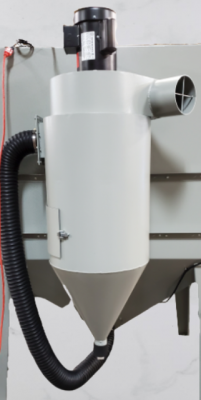 PRESSURE SYSTEM:
A one (1) Cu. Ft. capacity, ASME certified pressure pot is supplied. Pot is equipped with 3/4″ piping, pilot/slave regulator, moisture separator, outlet valve, media valve, and all related controls for efficient operation. Blast is delivered to the part through 1/2″ blast hose and a 1/4″ Tungsten Carbide nozzle.
(One Cubic Foot Pressure Pot Shown)

CARTRIDGE DUST COLLECTORS:
The M series collectors are of cartridge type with auto cleaning and are designed and built for continuous duty operation. The units are designed for use with abrasive blast systems.
(M6 Dust Collector Shown)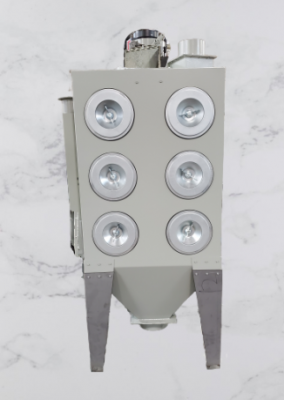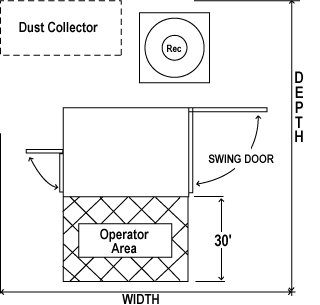 | | | |
| --- | --- | --- |
| Model | Width | Depth |
| BIA60 | 150″ | 150″ |
| BIA72 | 162″ | 162″ |
OPERATION:
The BLAST-IT-ALL® Cube is designed
and equipped to effectively blast large
items with a variety of blasting media.
High static fans available for heavy media.
The operator accesses the blast area from
outside the Cube through glove ports
to direct blast pattern at the items.
Blast pattern may be from a Venturi
suction gun or pressure blast.
CABINET:
Constructed of high quality
reinforced steel.
WORK SURFACE:
Heavy duty removable grate of
9 gauge, flattened, expanded metal.
DOOR:
Massive door opening – 55 9/16"W X 54 5/16"H
GLOVES:
NEW ERGO Pop in glove design with new slanted glove opening, abrasive and static resistant.
Pop In Style 8" wide X 12" height
WINDOW:
Gigantic Viewing Window size!  24"H X 30"W.  The ¼" thick with Laminated glass sets a new level of operator safety.
LIGHT:
4 color, 8300 Lumen, LED Light that includes a wireless dimmer to adjust the light intensity to the operators preference
CONTROLS:
Dual on/off switches for blower
and lights. Safety Door Switch allows
blasting only when the door is closed.
Blast is controlled by a foot activated
control.
BLOW-OFF NOZZLE:
A fingertip controlled air blow-off
nozzle allows cleaning of the work
inside the cabinet.
HOSES:
All air and media hoses are lightweight,
flexible, and abrasive resistant. Flex hose
is abrasive and static resistant.
ELECTRICAL:
A 230/460 Volt, 60 Hz, 3 Phase, service
is required. Alternate voltages are
available.
NOTE: Specify voltage on purchase order.
PAINT:
A durable corrosion resistant enamel,
grey in color, is used internally and
externally.
Options available for the Cube are:
Wear Kits
Additional Swing Door
Additional Work Stations
Vertical Door(s)
Additional height required
Set-in Turntables
Turntables and Track assemblies
Service Door (3×3)
Sound Suppressors
Hepa After Filters
Standard Cube Blast Cabinet

General Information

Suction Cabinets

BIA60V 60" WIDE X 60" DEEP X 53" HIGH +/‐

BIA60V‐2  900 RECLAIM AND D20 Dust Collector
BIA60V‐M4  900 RECLAIM AND M4 Dust Collector
BIA60V‐3  900 RECLAIM AND RPJH2 Dust Drawer
BIA60V‐4  900 RECLAIM AND RPJH2 Dust Hopper
BIA60V‐M6  1200 RECLAIM AND M6 Dust Collector
BIA60V‐5‐1  1200 RECLAIM AND RPJH3 Dust Hopper
BIA60V‐6  1800 RECLAIM AND RPJH4 Dust Hopper

Pressure Cabinets

BIA60P 60" WIDE X 60" DEEP X 53" HIGH +/‐

BIA60P‐2  900 RECLAIM AND D20 Dust Collector
BIA60P‐M4 900 RECLAIM AND M4 Dust Collector
BIA60P‐3 900 RECLAIM AND RPJH2 Dust Drawer
BIA60P‐4 900 RECLAIM AND RPJH2 Dust Hopper
BIA60P‐M6 1200 RECLAIM AND M6 Dust Collector
BIA60P‐5‐1  1200 RECLAIM AND RPJH3 Dust Hopper
BIA60P‐6  1800 RECLAIM AND RPJH4 Dust Hopper

VENTURI SYSTEM:
A lightweight, aluminum, pistol grip design, suction feed, gun is supplied. A No. 5 air orifice & No. 5 ceramic nozzle are installed as standard, other orifice & nozzle sizes are available depending upon compressed air supply. Carbide nozzles are also available. Media/Air blast ratio is obtained by a fixed media feed valve.

(M2 Dust Collector Shown)

RECLAIM SYSTEM:
High efficiency centrifugal, cyclone type, Adjustable air wash and trash screen to trap large debris. A high performance blower is used to convey media and blasting by-products to the reclaim for separation.

(700 CFM Reclaimer Shown)

PRESSURE SYSTEM:
A one (1) Cu. Ft. capacity, ASME certified pressure pot is supplied. Pot is equipped with 3/4″ piping, pilot/slave regulator, moisture separator, outlet valve, media valve, and all related controls for efficient operation. Blast is delivered to the part through 1/2″ blast hose and a 1/4″ Tungsten Carbide nozzle.

(One Cubic Foot Pressure Pot Shown)

CARTRIDGE DUST COLLECTORS:
The M series collectors are of cartridge type with auto cleaning and are designed and built for continuous duty operation. The units are designed for use with abrasive blast systems.

(M6 Dust Collector Shown)

| | | |
| --- | --- | --- |
| Model | Width | Depth |
| BIA60 | 150″ | 150″ |
| BIA72 | 162″ | 162″ |

OPERATION:
The BLAST-IT-ALL® Cube is designed
and equipped to effectively blast large
items with a variety of blasting media.
High static fans available for heavy media.
The operator accesses the blast area from
outside the Cube through glove ports
to direct blast pattern at the items.
Blast pattern may be from a Venturi
suction gun or pressure blast.

CABINET:
Constructed of high quality
reinforced steel.

WORK SURFACE:
Heavy duty removable grate of
9 gauge, flattened, expanded metal.

DOOR:
Massive door opening – 55 9/16"W X 54 5/16"H

GLOVES:
NEW ERGO Pop in glove design with new slanted glove opening, abrasive and static resistant.
Pop In Style 8" wide X 12" height

WINDOW:
Gigantic Viewing Window size!  24"H X 30"W.  The ¼" thick with Laminated glass sets a new level of operator safety.

LIGHT:
4 color, 8300 Lumen, LED Light that includes a wireless dimmer to adjust the light intensity to the operators preference

CONTROLS:
Dual on/off switches for blower
and lights. Safety Door Switch allows
blasting only when the door is closed.
Blast is controlled by a foot activated
control.

BLOW-OFF NOZZLE:
A fingertip controlled air blow-off
nozzle allows cleaning of the work
inside the cabinet.

HOSES:
All air and media hoses are lightweight,
flexible, and abrasive resistant. Flex hose
is abrasive and static resistant.

ELECTRICAL:
A 230/460 Volt, 60 Hz, 3 Phase, service
is required. Alternate voltages are
available.
NOTE: Specify voltage on purchase order.

PAINT:
A durable corrosion resistant enamel,
grey in color, is used internally and
externally.

Options available for the Cube are:

Wear Kits
Additional Swing Door
Additional Work Stations
Vertical Door(s)
Additional height required
Set-in Turntables
Turntables and Track assemblies
Service Door (3×3)
Sound Suppressors
Hepa After Filters
Custom Cube Blast Systems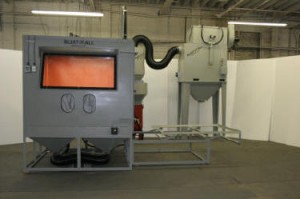 72″ Wide X 72″ Deep X 63″ High (Inside Working Area), 900 CFM Reclaim, Screen Debris Drawer, Reverse Pulse Cleaning Dust Collector, Hopper With Slide Gate Sized For A 55 Gallon Drum Dust Container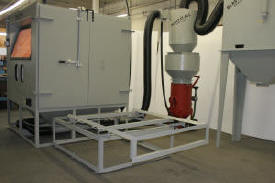 Outside "CAM" Down Track, Dual Opening, Full Size, Positive Sealing Swing Doors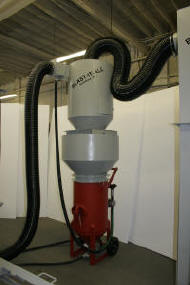 3 Cu Ft Direct Pressure Tank With Adjustable Abrasive Valve And Remote Air Pressure Adjustment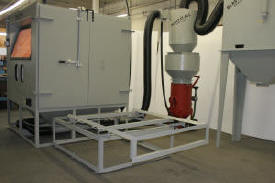 900 CFM Reclaim / Reverse Pulse Jet, Automatic Timed Cleaning Cartridge Dust Collector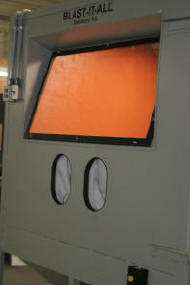 Large (Optional) Oversize Viewing Window / Large Capacity, Over-sized Operator Glove Ports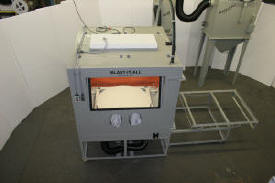 Operators View Inside Cabinet Work Area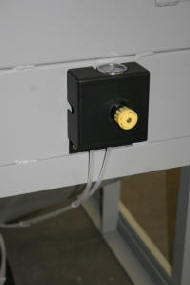 Remote Air Pressure Adjustment (Operators Station)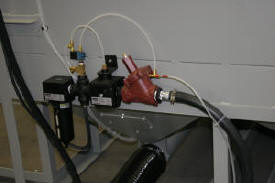 Compressed Air Piping On Rear Of Cabinet (Easy Access)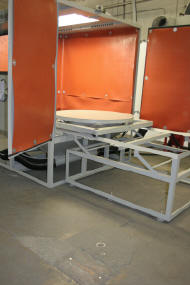 48″ Diameter, 1000 lb (Uniform) Capacity Turntable And Track
Custom Cube Blast Systems

72″ Wide X 72″ Deep X 63″ High (Inside Working Area), 900 CFM Reclaim, Screen Debris Drawer, Reverse Pulse Cleaning Dust Collector, Hopper With Slide Gate Sized For A 55 Gallon Drum Dust Container

Outside "CAM" Down Track, Dual Opening, Full Size, Positive Sealing Swing Doors

3 Cu Ft Direct Pressure Tank With Adjustable Abrasive Valve And Remote Air Pressure Adjustment

900 CFM Reclaim / Reverse Pulse Jet, Automatic Timed Cleaning Cartridge Dust Collector

Large (Optional) Oversize Viewing Window / Large Capacity, Over-sized Operator Glove Ports

Operators View Inside Cabinet Work Area

Remote Air Pressure Adjustment (Operators Station)

Compressed Air Piping On Rear Of Cabinet (Easy Access)

48″ Diameter, 1000 lb (Uniform) Capacity Turntable And Track