**Keep your work environment clean with this self contained clean bench.  Clean parts inside cabinet without getting dust and debris on shop floor. **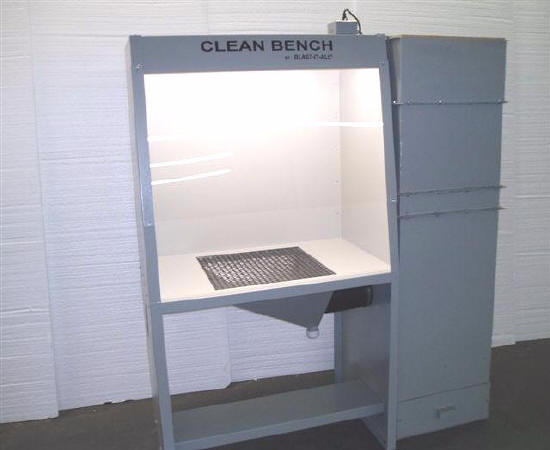 Technical Information
Typical Bench
  Model:
Model CB4830-2, 14 Gauge Steel
Overall Dimensions:
Front To Back (30″), Across The Front (74″), Height 78″
Table Size:
Front To Back (30″), Across Front (48″)
Down Draft Opening:
24″ X 24″ Centered On Table, With #9, Expanded Metal.
Blower:
1 Hp, TEFC, 115 Volts, 60 Hz. (or As Model Number)
Dust Collector:
Single 13″ X 36″ Filter Cartridge, 240 Sq Ft Of Pleated, 80/20 Blend Of Filter Material With Bottom Dust Containment Drawer.
Exhaust Silencer:
The Exhaust Area Lined With Sound Abatement Material.
    Lights & Controls:
1 . Two (2) LED Fixtures, 40 Watts
2. Controls: 115 Volt, Single Phase, 60 Hz An 8 Ft Power Cord Is  Provided For Electrical Connection
3. Switches: One (1) Switch, Controls Both Lights & Motor.
    Lights & Controls:
Located On The Top Panel, Visible And Accessible To The Operator
Blower & Motor:
Enclosed In Sound Abated Chamber
Optional HEPA Filter:
An Industrial HEPA Filter Is Provided And Located On The Exhaust Fan Outlet. (This HEPA Provides Additional Sound Abatement.)
Optional Plexiglass Screen:
As An Option A 24″ X 48″ Plexiglass Can Be Provided For Additional Operator Protection.
  Optional Filter Cleaner: 
As An Option A Reverse Air Device Can Be Provided.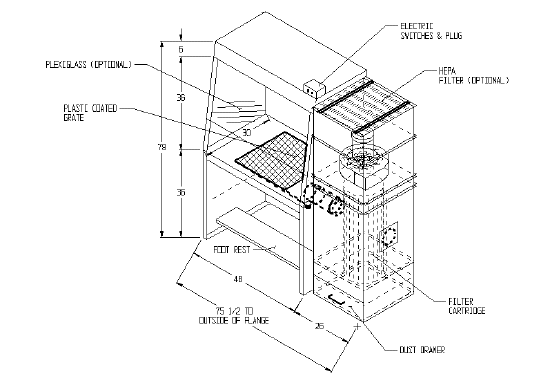 Dimensions And Specifications
**View larger screen to see Data Tables**
| | | | | |
| --- | --- | --- | --- | --- |
| Standard Models | DownDraft Work Area | Work Area Velocity | Fan Motor | Dust Collector |
|  CB-4830-1 |  12″ X 12″ |  400 Ft/Min |  1/2 Hp 120V 60 Hz |  BIA C100 |
|  CB-4830-2 |  24″ X 24″ |  175 Ft/Min |  1 Hp 120V 60 Hz |  BIA C100 |
|  CB-4830-3 |  12″ X 24″ |  350 Ft/Min |  1 Hp 120V 60 Hz |  BIA C100 |
|  CB-6030-1 |  12″ X 12″ |  400 Ft/Min |   1/2 Hp 120V 60 Hz |  BIA C100 |
|  CB-6030-2 |   24″ X 24″ |  175 Ft/Min |  1 Hp 120V 60 Hz |  BIA C100 |
|   CB-6030-3 |   12″ X 24″ |  350 Ft/Min |  1 Hp 120V 60 Hz |  BIA C100 |
Overall Equipment Dimensions With Dust Collector
**View larger screen to see Data Tables**
| | | | | |
| --- | --- | --- | --- | --- |
| Model | Bench Width | Overall Width Bench + DC | Depth | Height |
|  CB-4830-1/2/3 |  48″ |  78″ |  30″ |  92″ |
|  CB-6030-1/2/3 |  60″ | 90″ |  30″ |  92″ |