Respirators Are Required Under OSHA Guidelines To Provide Safety For An Operator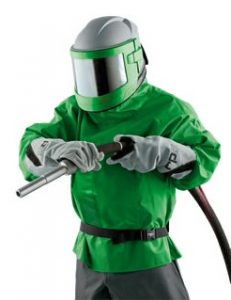 NOVA 3 Helmet W/ Flow Control, 28″ Nylon Cape
The  Nova 3®'s design and engineering distributes the helmet's weight evenly across the head and shoulders for optimum comfort, practicality, and ease of worker movement, reducing fatigue. … It's positioned to help absorb sound within the helmet, protecting workers' hearing.
Features:
A ratchet adjustable neck pad ensures appropriate head support
The molded inner 'Clever fit padding' design helps absorb sound, protect hearing, and is fully adjustable
Revolutionary weightless design distributes weight evenly across the head and shoulders
One-click lens replacement – Save time replacing the inner, outer, and tear off lenses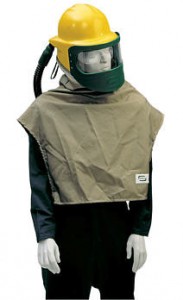 88VX Series Blasting Respirator
Provides advanced protection in the harsh exposures of blasting and painting. The snug, yet comfortable sewn-in neck cuff provides a physical barrier to airborne contaminates and helps maintain positive pressure within the helmet. A double lining in the neck area enhances durability and protection.

Features:
Increased Breathing Tube Flexibility
Improved Window Frame & Gasket Seal
1000 Assigned Protection Factor (APF)
NIOSH #TC-19C-293, Type C& CE