Model 3636-7P with Special Door Ports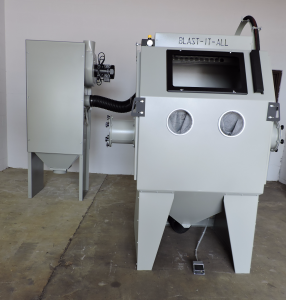 Door ports: Provides a 9" diameter, double split rubber,
port for longer port to pass through the blast area.
Ports can be located on one or both doors.
Model 4848-Select
Manual Blast / Auto Rotation
This system was developed for an (AR15) Barrel Manufacture.
Auto Rotating Table – Twelve (12) Stations.
The operator can load twelve (12) barrels onto the work station fixtures
close the door and manually blast treat.
The table is rotated by a manual foot switch as the operator needs for blasting.
After blasting all twelve barrels, the operator
will open, either the right or left door for unloading
and re-loading the fixtures.
While the door is open, the table will not rotate the individual stations.
The blast media is processed through our 900 CFM Reclaim,
cleaned and the dust is passed on to the M4 Cartridge,
Reverse Pulse Cleaning Dust Collector.
Model 6060 CUBE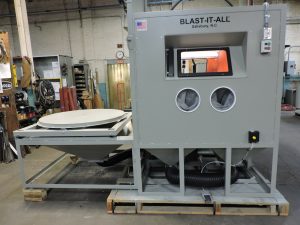 * Shown with Optional TurnTable
If you need a larger blast enclosure, but not a blast room, the CUBE system may suit your needs.
The CUBE is fabricated, starting with an angle iron frame and skinned with 12 gauge high grade steel.
The inside dimensions of the BIA 60 CUBE are: 60″ Wide X 60″ Deep X 53″ Tall (nominal).
BLAST-IT-ALL® developed and provides quick change 10" diameter SNAP-IN abrasive resistant gloves.
Gloves are changed from outside the cabinet, no clamp required.
The lighting is by a four tube, T8 fixture above the work area, and protected by ¼" Plexiglass.
Standard, quick change viewing window is 12 ½" x 20 ½" with roll MYLAR window protector.
The CUBE cabinet comes standard with a right side, full size swing door, 54" deep x 48" tall (nominal)
Various options are available:
Opposite side service door: 3 ft x 3 ft (nominal)
Cabinet lined with rubber (sides and rear)
Opposite side full size swing door
Vertical door(s) to replace swing door(s)
Turntables and  carts, various weights and diameters
Oversize viewing windows, 24" x 24" and 24" x 48" (safety plate glass)
Powered table and cart in / out
Various combinations of recovery reclaim and dust collectors are available, depending on application.
Others options upon request