Mechanical Recovery
Types Of Media: Steel Shot & Steel Grit
Blast Room Structure:
The blast room compartment is of panel construction, sheared and broke to form and Atlanta "T" bolted together, fabricated of 10 gauge steel.
Work Doors:
One (1) set of double panel, 2″ square tubing frame, hinged work doors, located on one end of room.  These doors are self-sealing, swing type, for manual operation.
Blast Plenums:
All required air intakes and exhaust plenums constructed of 10 gauge steel.
Personnel Doors:
One (1) personnel door, 2′ 6″ W X 6′ 6″ H, is supplied for easy accessibility for servicing of the room interior.  It includes safety limit switches to prevent operation of blast pot if door is open.
Light Fixtures:
2′ X 4′ four bulb, 110 volt, fluorescent light fixtures with lexan covers.
Typical Mechanical Abrasive Handling And Reclamation System:
Two (2) 9″ diameter long screw assemblies with 1/4″ flighting and flange bearings.  Screws to be driven by 3 H.P. screw drive assemblies including reducers and TEFC motor.  These drives are shaft mounted.  No chains and sprockets anywhere in the system so every conveyor has it's own drive.
Cross Screw:
One (1) 9″ diameter cross screw assembly with 1/4″ flighting and flange bearings.  Screw to be driven by a 3 H.P. screw drive, shaft mounted assembly including reducers and TEFC motor.
Floor Pans:  
Floor pans constructed of 10 gauge steel are located under the floor grating.  They receive the used abrasive and refuse passing through the floor grating.
Floor Grating:
All required floor grating rated at 250 #.
Abrasive Elevator:
One (1) elevator, 18′ H, receives the used abrasive and refuse through a non-choke infeed spout at the elevator boot.  The elevator drive unit is located at the head.  It consists of a shaft mounted gear reducer, driven by a 2 H.P. electric motor.
Abrasive Separator:
One (1) high efficiency, high capacity abrasive separator, consisting of the lower air wash section and rotary screen driven by a 2 H.P. shaft mounted motor.  The material received from the elevator is deposited into a rotary screen then an adjustable metering gate and is allowed to fall in a uniform curtain through the air wash section.
Storage Bins:
One (1) 80 Cu. Ft. steel plate abrasive storage bin with divider, handrails and ladder, to receive the cleaned abrasive from the foregoing separator and stores this material for distribution, mounted over the blast tank, feeding thereto.
Direct Pressure Blast Tank:
The blast application is accomplished by two (2) 6.5 Cu. Ft. single chamber blast pots with controls and 1 1/4″ piping for grit control.
Two (2) 3/8″ nozzle blast controls for starting and stopping the blast at the end of the blast line, stops if the operator releases the actuator for any reason, providing operator safety.  Nozzle control interlocks with door limit switches to prevent pot operation unless all doors are closed.
Two (2) supplied air systems consisting of the helmet assembly with shroud, breathing tube and regulation valve with quick disconnect to helmet from compressed air line.
Dust Collector:
One (1) cartridge type down flow dust collector with pulse air blow down for cleaning filters.
Control Panel:
One (1) pre-wired and interlocked NEMA 12 electrical control panel, including starters, fuses, push buttons, main line disconnect, etc. for the proposed room.
10 Gauge Panels
Rigid Atlanta "T" Joint
Door Safety Interlock
Air Inlet Baffle
Quick Change Light Fixtures
Full Floor or Partial Floor Recovery Systems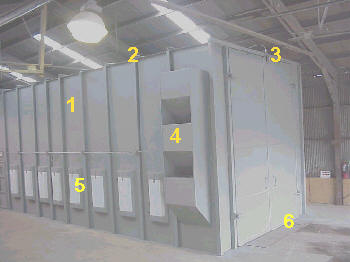 Blast Enclosure Front/Side Work Doors Air Inlet Lighting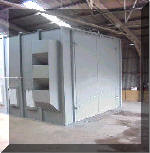 Abrasive Separator Hopper Pressure Pots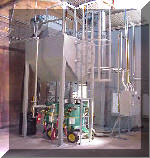 Blast Enclosure Side View Light Module Abrasive Hopper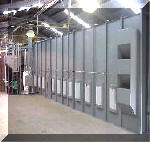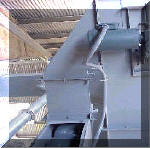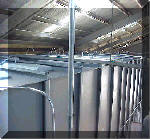 Feed Screw Elevator To Drum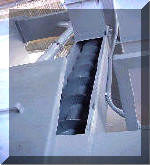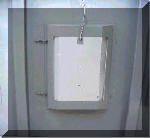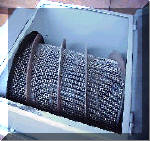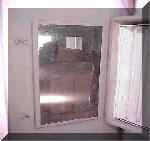 Large Debris Outlet Feed Screw & Drum Drive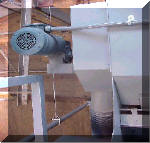 Adjustable Abrasive Airwash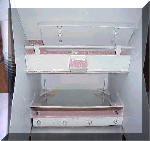 Dust Collector with Optional HEPA/ ASHRAE Filters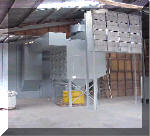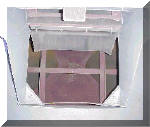 Dust Collector Pulse Controls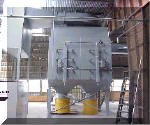 Hopper Outlet With Slide Gate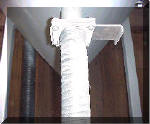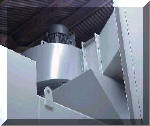 Media Fill With Secondary Screen