PMS SYSTEM
LIGHT MEDIA RECOVERY SYSTEM
* FOR PLASTIC MEDIA, GLASS BEADS, ALUMINUM OXIDE *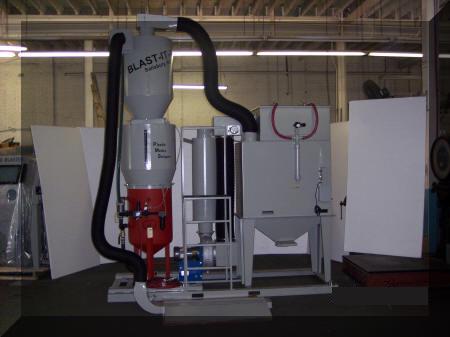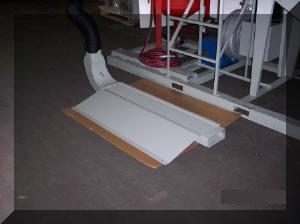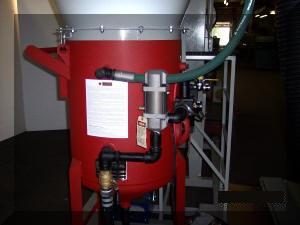 Light Media Recovery System – PMS
*Shown with Low Profile Sweep-In
PMS 9400 MANUAL – (MM552)
PMS 9400 Recovery Unit
Specifications
Blower:
 7 1/2 Hp TEFC Motor, 230/460 V, 3PH
Direct Drive
Rated At 900 CFM @ 20″ WC
Dust Collector:
900 CFM Rated
(2) Cartridge Filters
Auto Pulse Jet Cartridge Cleaning
Dust Collector Sump
Slide Gate For Dust Removal
Easy Access Door For Cartridge Replacement
Cabinet Constructed Of High Quality 7 Ga. Steel
Reclaimer:
28″ Diameter, Cyclone
Externally Adjustable Media Air Wash
Constructed Of High Quality 12 Ga. Steel
Removable Trash Screen, With Air Vibrator
20 Cu. Ft. Storage Hopper Located Directly Above Pressure Pot
Pressure Pot:
6 Cu. Ft. Capacity Pressure Pot
Adjustable Regulator For Blast Pressure
Combo Inlet / Outlet Air Control
Pneumatic Deadman Controls
50 Ft. Bi-line Control Hose
50 Ft. 1 1/4″ Abrasive Resistant Blast Hose
Adjustable Media Control Valve
Choke Valve
Floor Recovery 4 Ft Long Low Pro Floor Section
Stand:
45″ X 10 Ft. Long Tallest Point Of Reclaimer 14 Ft.
Weight:
Shipping Weight Approximately 2,800 Lbs.